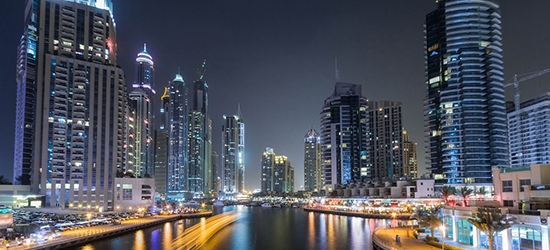 Cheap direct flights from UK to Dubai
from £283pp
Had enough of winter? Your answer might well be Dubai. It's an extraordinary place, and really must be seen to be believed.
Emirates are currently running a sale which has seen some fares fall below £300 per person - extremely good value for direct flights on a full-service airline.
What's included
1 x cabin bag per passenger

1 x checked bag included (15kg)

Meals and drinks

Travel dates
We're seeing low fares from February through to June, although peak times, such as Easter, seem to be excluded. The best sale fares - under £300 per person - can be found on departures from London, Manchester and Birmingham.
The sale is due to run until 18 February, the lowest fares will probably only last for 2 or 3 days.
Important: Prices are correct at the time of publishing, however they are subject to change at any time depending on availability. Some promotional prices will be strictly limited by tour operators or airlines. Special terms and conditions may apply.
About Dubai
Average flight time: 07hrs
A blend of strong traditions and modern innovation dripping in evocative splendour (and bling!), this is a city that really has it all.
The sheer ridiculousness (is that even a word?) of what this city not only dreams up, but actually creates is awe-inspiring and quite literally a sight to behold from its world famous hi-rise hotels to the outrageous and sublime man-made palm islands.
This is also a shopping haven with two annual shopping festivals not to miss. With incredible mega-malls that offer an experience far beyond the mundane of simply browsing from store to store. Visit a Persian palace or Italian palazzo, go skiing at the indoor slope or check out the giant aquarium. Want more tradition, head to the souqs for some old-skool bartering and keep an eye out for future developments, they're popping up all the time, so blink and you might miss them. Read our full destination guide here.
Blog posts
From the UK's most popular travel bloggers