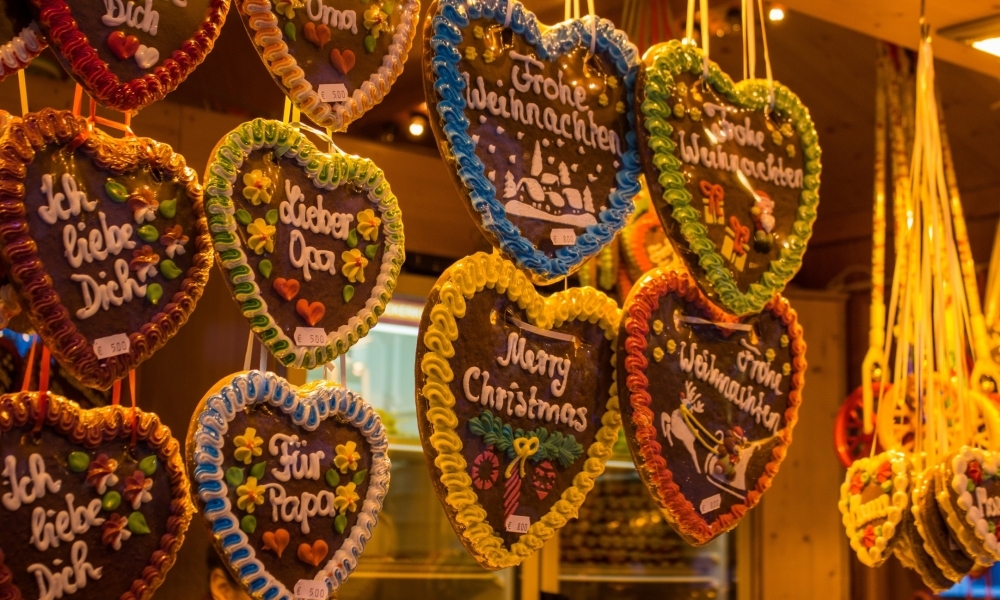 Booking a Christmas market trip
It's Chriiiiiiiiiiistmmaaaaaaaaasss!! Well, no actually, it isn't. But if you could see my inbox - full up with countless snowy and festive wintery travel deals - you'd definitely think it was close. September is clearly the month for change: hazy sunshiney memories begin to take a backseat, superseded by thoughts of wintery getaways.
With all this in mind, and added to the fact it's often more advantageous to beat the rush and book your Chrimbo break early, we're celebrating with a whole weekend of the best festive and Christmas market deals we've seen so far.
More than ever before, it seems as though a Christmas market break has become a 'thing'. People are adding it to their routines and traditions as a way of inducing that much sought-after "festive feeling". Having visited Salzburg in Austria for the Christmas markets last year, I can also personally confirm that it's a lovely thing to do. What better way to visit a pretty European town or city than by wrapping up warmly and meandering leisurely around countless wooden chalets adorned in decorations galore, selling everything you can think of to do with the season? Add in festive music, a mulled wine* or two (*other spiced alcoholic beverages are available) and wonderfully aromatic festive scents wafting on the air and you have feel-good Christmas perfection right there!

When to book?
Christmas markets generally begin right at the end of November or very early in December. They often continue until the New Year, but sometimes close up to a day or two before the big day. It's worth checking your chosen destinations to make sure that the main markets are happening when you want to go. The nearer to Christmas you go, the busier the destinations will be, and the higher the price will probably be.
While getting the best deal is never an exact science, with Christmas markets it's often considered best to book as early as possible and before everyone else realises they want to go too.
Tip: try to make your booking on a weekday – Tuesdays and Fridays are considered the best days for making the biggest savings. Try to avoid booking on a Saturday, and particularly on a Saturday after the second week of November when you will be more likely to pay over the odds for your travel.
Where to go?
There are a now a huge selection of Christmas markets to choose from all over the world, expanding year upon year. From quaint and classy to enormous and seriously OTT, the options are almost limitless. Where you go will depend on your budget, how long you want to go for, and what you'd like to experience when you're there.
But as a quick guide, I've detailed a few of the best European countries/cities, renowned for their fab markets:
Germany
Cologne Christmas markets: 26th November – 23rd December 2018
You could quite honestly choose almost any German city and have a brilliant Christmas market experience. There'll always be hotly contested debate about which is best, from Dresden (the oldest), to Nuremberg (the prettiest?), Worms (one of the smallest/quaintest) and Dusseldorf (very themed), as well as countless others from Aachen and Bremen to Hamburg and Berlin.
My overall German recommendation is Cologne which seems to have a mixture of all the best bits: numerous themed markets all over the city to reflect their locations, from the maritime harbour to the traditional Old Town to the trendy gay and lesbian area.
Cologne's standout market is set against the backdrop of its breath-taking Gothic Cathedral. The 'Cathedral Christmas Market' contains more than 160 stalls selling arts and crafts, and all of the festive food and drink you'd expect to see and taste. It really does seem to contain that perfect magical Christmas feeling, all tied up with a bow and ready to explore and fall in love with.
Cologne itself also has plenty to keep visitors busy away from the markets, with museums, a cable car and a zoo to fill your free time with.
Prague, Czechia
Prague Christmas markets: 1st December 2017 – 6th January 2019, open every day including Christmas Eve, Christmas Day and New Year's Day
One of the most beautiful cities in the world any time of the year, Prague is a twinkling magical wonderland during Advent. The views I saw online of the large markets at the picturesque Old Town Square and Wenceslas Square are among my earliest memories of my initial desire to experience a European Christmas market. There are smaller markets around the City, all selling things such as ornaments, hats, gloves and scarves, glassware, ceramics, scented candles, jewellery, embroidered lace and dolls, from brightly decorated wooden huts.
Salzburg, Austria
Salzburg Christmas markets: (mostly) 22nd November – 26th December 2018
Austrian markets possess a similar appeal to German ones for me due to the associated festive and snow-dusted history and traditions. Most well-known Austrian markets are in Vienna, as well as the much quainter and beautiful Alps-immersed city of Innsbruck, and the very slightly more commercial and larger Salzburg, also with its picturesque Alps backdrop.
The Christmas market on Salzburg's Cathedral Square dates back to 1491, making it the oldest in the city. With a Fortress looming high on a hill above and the Cathedral serving as a magnificent backdrop, Salzburg truly appears to have come straight from a fairy-tale. Add in the fragrance of baked apples, incense and candyfloss and you have a fully immersive scene of pure perfection.
Salzburg has a varied social and cultural Christmas programme, with the Advent Brass Concert as a highlight, and plenty of things like processions and exhibitions going on too. Read about my own Salzburg Christmas market experience for more.
And if that's not all Christmassy enough for you, don't forget that this city is the birthplace of the world's most famous Christmas carol, 'Silent Night'! Palaces, castles, Cathedrals, a zoo, and Sound of Music and Bavarian tours into the mountains, plus plenty of traditional pit-stops for a cheeky stein or two, ensure that there is always plenty to do, see (and consume!) in Salzburg. And, as it's so close to the border, you can even hop across and take in some German markets too - I recommend beautiful Berchtesgaden and stopping at the breathtaking Lake Konigssee too - a small but perfectly formed place I'd seriously love to revisit and stay in one day!
Copenhagen, Denmark
Copenhagen Christmas markets: (mostly) 16th November - 22nd December. Note: some start later and/or finish earlier
Not even a two-hour flight from the UK, Copenhagen is a relatively compact city for visiting tourists - which makes it perfect for a Christmas market trip. There are markets all over the city, from Nyhavn Harbour to Tivoli Gardens and Kronberg Castle with enough to inspire a feeling of festive hygge. And you could try out the predictably unconventional Oriental bazaar-type market in the city's world-renowned commune, Freetown Christiania. Here you'll find many original and unusual "Scandicrafts" (handicrafts) that you're unlikely to discover anywhere else in the city.
Ljubljana, Slovenia
Ljubljana Christmas markets: (mostly) 1st December 2018 - 2nd January 2019
"Where?!" I can practically hear you ask. Well, this is a city on the rise. Recently voted as one of the best emerging European destinations on TripAdvisor, Ljubljana has everything going for it: affordable flights, accommodation and food and drink, as well as Baroque and Habsburg inspired-architecture, overlooked by a castle on a hill, and bordered by a picturesque river. It's one of the most green-conscious cities in Europe and close to the mightily impressive limestone mountains and glacial lakes of the Julian Alps. It kind of looks like it's come straight from the pages of a fairytale and contains plenty of riverside cafes in which to to sit and soak it all up.
In Prešeren Square you can enjoy all the festive beauty of the city's Old Town, while the market in Radovljica has activities to keep families entertained.
Don't fancy flying?
Bruges, Belgium
Bruges Christmas markets: 23rd November 2018 - 1st January 2019
Beautiful at any time of the year, medieval Bruges is another fairytale-like location at Christmas - and relatively easily accessible via Eurostar. During market festivities the cobbled streets resemble gingerbread houses and horse-drawn carriages transport visitors for tours of the city. There's an ice rink and a cosy atmosphere to instil that perfect pre-Christmas mood. I have heard that Bruges Christmas markets are quainter and slightly less impressive than their neighbouring country counterparts, but still great to combine with seeing the city if you're a first-time visitor.
Strasbourg, France
Strasbourg Christmas markets: 23rd November - 30th December 2018
Believe it or not, Strasbourg is home to one of Europe's oldest Christmas markets (established 1570). The city may not register highly on your must-visit Christmas market list, but it was once part of the German Rhineland and I've heard some great things about it's markets. What's more, it boldly claims to be the "Capital of Christmas", and Christmas traditions are deeply rooted in Alsatian culture. Over 300 chalets sell everything you'd expect and some things you might not - such as traditional Alsation decorations and culinary specialities unique to the area.
Lille, France
Lille Christmas markets: 22nd November - 30th December 2018
Although it hadn't ever featured very highly on my own Christmas radar, I've already seen loads of festive deals to Lille for this year. On the border with Belgium, this bustling city is easy to get to on Eurostar. And at Christmas Lille literally lights up - it's covered in a huge crown of garlands and lights. Growing by the year, it now regularly amasses more than 90 chalets. You'll find all the arts and crafts and traditional fare you'd expect - including the all-important gingerbread and mulled wine to add that slice of festive perfection.
Obviously, any of the above destinations can be reached by plane too.
Other top European Christmas markets to consider
Zagreb: Often voted 'Best Christmas Market': 2nd December 2018 - 6th January 2019.
Zurich: See the Swarovski Christmas tree: 22nd November - 23rd December 2018.
Krakow: 30th November - 26th December.
Gothenburg: 29th November 2018 - 6th January 2019.
Budapest: mid-November 2018 - 1st January 2019.
What about the UK?
Yep, over the last few years especially we've been influenced by our European neighbours, with Christmas markets popping up in every major (and not-so-major) city and town (and even village and shopping centre) across the country. There are far too many to mention them all, but they seem to be at their most twinklingly beautiful in cathedral and historical towns and cities - from York and Winchester to Bath and Edinburgh. London, Belfast, Manchester and Birmingham are also noteworthy destinations for some of the biggest and brightest markets.
My choice for this year
After being wowed by my festive trip to Salzburg last year, I've decided to make it a yearly thing and booked to go to Prague this December. I'm staying in the centre of the city, around a 7-minute walk from Wenceslas Square. As my original Christmas market inspiration, Prague has a lot to live up to. I've heard it's a beautiful city and I'm very excited to see it for myself as well as experience it's famous festive markets.

Similar blog posts
From the UK's most popular travel bloggers