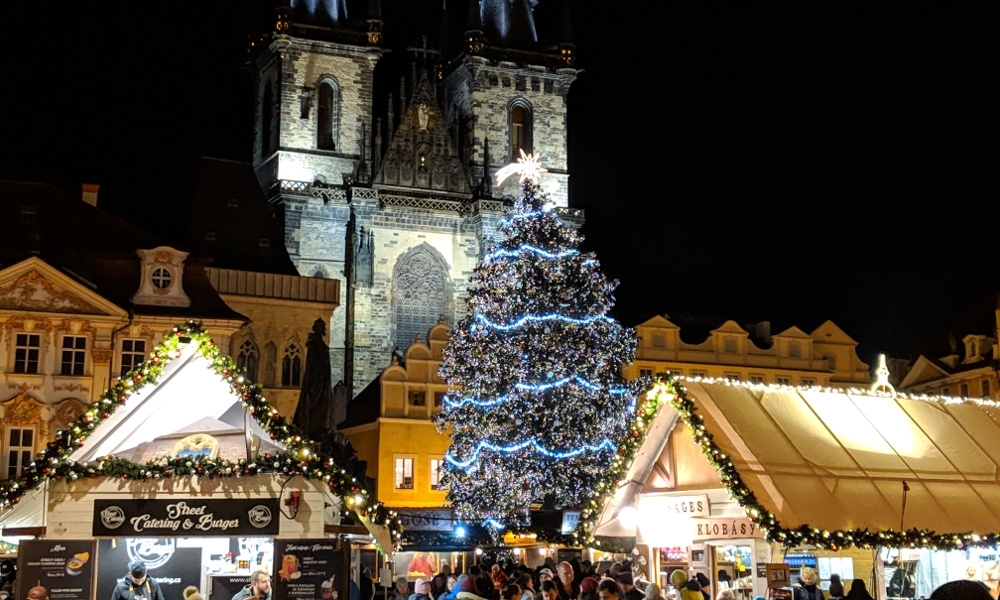 Prague Christmas markets
Standing in the centre of Prague's Old Town Square market, I became aware that this was possibly the most "Christmassy" I've ever felt in my life.
The last few years have seen an enormous surge in the number of people wanting to kickstart their Christmas festivities with a European market trip and Prague is one of the most popular destinations for UK travellers. A stunningly beautiful city in its own right, it has an authenticity that's very likely to induce that fuzzy festive feeling.
1. Old Town Square
Easily the biggest and most attractive, this is a Christmas market enthusiast's dream. The medieval square dates back to the 10th century, and you can feel it. With the 600 year old Astronomical Clock, cobblestones, awe-inspiring baroque churches, brightly coloured buildings, and tiny alleyways leading off of it, you'd think it was unique and picturesque enough. Add in countless wooden chalets selling all manner of Christmas ornaments and trinkets, as well as festive food and hot drinks, an enormous stylishly-adorned Christmas tree, a stage where choral singing takes place at regular intervals, and a platform to see it all from a bit higher, and you have Christmas perfection. Oh, and don't forget the chill in the air, the twinkly lights and the continually-piped carols to finish off the picture-perfect festiveness.
Although the biggest, this market still won't take you long to walk around. But it's mostly about soaking up the atmosphere, drinking a hot mead and eating one of the region's famed trdelníks. And if you're spending a few nights in the city it's definitely the one that you're going to want to come back to.
As with all Prague's markets the best time to see it is after dark when the lights are on and it's in full glow and flow, bustling with festive shoppers. Standing in front of the Christmas tree and looking up at the gothic Tyn Church, it's impossible not to feel even the teeniest bit sentimental, unless you're Scrooge.
Top tip: hordes of people congregate around the mechanical Astronomical Clock which chimes on the hour. It's nice but fairly underwhelming, so this is probably the best opportunity to get a closer look at the market stalls while there are less people around.
You'll pay a premium in the restaurants surrounding the Square but they're still great places to stop for a drink under the outdoor heaters and to soak in the atmosphere.
2. Wenceslas Square
Founded by Charles IV in 1348. Not so much a square as a long and wide shopping street with the impressive National Museum building at one end and the Christmas market in the middle at each end. With such a Christmassy name, I expected this to be the biggest and most picturesque of the Prague markets. Heading straight here after arriving in the city, I was a little disappointed. I'd expected a more coherent market that was easier to stroll around, rather than a long street full of souvenir and designer clothes shops that required a long walk. The history of the Square is undeniable - just don't expect to be wowed by the market, or to stay here for long. And again, it's nicer at night at it's full, twinkly-lighted best.
3. Peace Square
Dominated by the neo-Gothic Cathedral of St Ludmila, built around 1893, this market is slightly further away from the centre of Prague, although still only about 15 minutes' walk from Wenceslas. It's noticeably less commercial than the very central ones with more independent stalls and local produce. It felt much more like an after-work pre-Christmas meeting place for locals and undoubtedly more quaint. Although there's less to do outside of the market in this area, there were some great photo opportunities with the beautiful Cathedral as a backdrop.
4. Republic Square
Close to Old Town Square, this market is really quite small - around 30 stalls. You won't spend very long here, but it's considered to be cheaper and less busy than its larger neighbour.
5. St George's Basilica, Prague Castle
A walk over the Charles Bridge and up to Prague Castle - past a rather impressive Starbucks with an outdoor seating area that looks out over the city - eventually brings you to this small but impressive market. You have to go through security to get into the grounds and the market does seem to be designed for tourists, but I still enjoyed it. You won't find anything remarkably different for sale here, but the setting adds a unique feel and there's plenty to look at and less crowds. Note: you don't have to pay to get in here.
Aside from the markets
Prague is beautiful and it's clear to see why it's become traditionally synonymous with Christmas. Many of its buildings and churches look facade-like and almost too impressive to be real. The church on Old Town Square could've come straight out of a Harry Potter novel and the candy-coloured buildings occasionally give it a Disneyland feel. But this is real, and it's wondrous. There are nativity scenes all over the city, and the Christmas vibe is inescapable.
Mikulas (St Nicholas Day) - December 5th is a celebration day when St Nicholas, along with an Angel and a Devil, wanders the markets and streets stopping children to ask if they've been good or bad this year. Children sing a song or recite a poem, and are then rewarded with sweets (or coal). All done in good humour of course, but the markets, streets and restaurants were exceptionally busy between 5pm and 8pm, with devil horn-wearing kids and parents. I found it much more fun than the perturbing Austrian Krampusnacht traditions.
And what to eat and drink?
Trdelníks are everywhere. If you can get past what they sound like in English, they are quite tasty. They're made from rolled dough that's wrapped around a stick, then grilled and topped with sugar and walnut mix - and chocolate if you want it.
Prague is a meat-oriented city, although you can usually find some form of grilled cheese on restaurant menus. The markets contained a variety of cooked meats including barbecued sausages (klobasy) and spit-roasted ham (sunka). Gingerbread is also a big thing here, as it is across Europe, and I had some lovely marzipan and orange-flavoured gingerbread and biscuits.
Hot wine/Svařák. I was looking for mulled wine or glühwein before I realised that Czech 'hot wine' is practically the same thing. It's clichéd but a Christmas market must.
Hot mead. A honey based drink that's initially quite shocking before the sweetness kicks in and your throat feels soothed.
Hot chocolate. Much thicker than hot chocolate I've had anywhere else in the world, it tasted like a whole glass of melted chocolate. Rich and very sickly by the end.
When are the markets?
Prague's Christmas markets begin in late November/early December each year and finish in early January. They're open until around 9 or 10pm each day.
Similar blog posts
From the UK's most popular travel bloggers