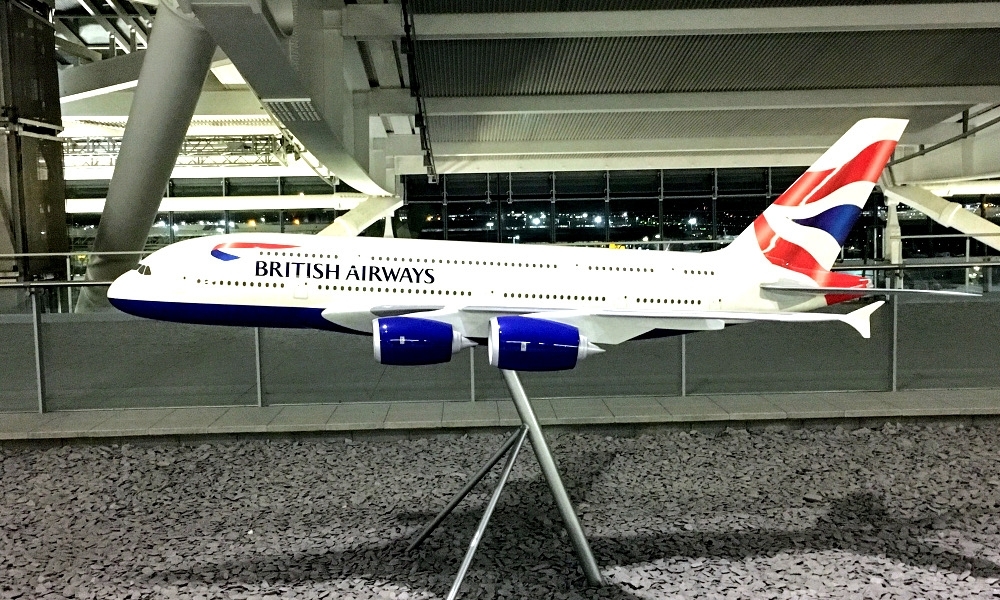 No photo credit
British Airways Club Europe review: Is it worth the upgrade?
I recently had the opportunity to fly to Copenhagen with British Airways on a Club Europe ticket - the airline's short haul business class service. It was the first time I'd flown Club Europe, so I was interested to see how the experience would differ from their economy Euro Traveller offering.
Fast track security
I had a late night flight out of London Heathrow T5 on Friday evening. I didn't use the inclusive hold baggage allowance with my ticket, so having checked in online I proceeded directly to the fast track security lane included with my ticket. There were no queues at all, and it was easily the best airport security experience I've ever had. I also used a fast track lane for my return flight at Copenhagen airport, which was just as efficient.
Airport lounge access
A big perk of my Club Europe ticket was access to the two Galleries Club Lounges at Heathrow. Unlike the Aspire lounge, economy passengers can't pay to access the BA lounges, so you'll only get in if you have a First, Club World or Club Europe ticket, or if you are an Executive Club Gold or Silver Member (or oneworld equivalent). I chose the large south lounge to base myself, which had plenty of seating and was extremely well stocked with food and drink. Every alcoholic drink that I could think of was freely available, including champagne if requested. Hot and cold food was constantly replenished and all looked extremely appetising, and decent coffee machines kept me caffeinated. On entering, turn left for a bright seating area with a view of the airfield, or right for a more secluded feel that culminates in a bird's eye view of the airport's retail and security areas.
I loved the Galleries Club Lounge. My only criticism would be that some of the seating areas were freezing cold due to overzealous air conditioning - a common gripe of mine - and that a good many of the staff looked extremely grumpy.
On the return leg, my Club Europe ticket provided access to the Eventyr lounge at Copenhagen Airport. It took me a while to work out which of the four lounges I could access, which perhaps could have been flagged up within the BA app. The lounge itself was beautiful and very quiet, but it was through passport control and so once in, there was no popping to the plentiful retail outlets that were the other side. Food options were also lacking.
Boarding, seating and greeting
Club Europe passengers are allocated boarding group 1, and so you'll be first on the aircraft. We were flying on a new style Airbus A319 with 7 rows of Club Europe seating at the front of the plane. The seats were in a 3-3 configuration with the middle seat converted into a table, and all the seats onboard were black leather and looked rather smart.
On the outbound journey there were only 12 passengers in the Club Europe cabin. The customer service manager James introduces himself to all passengers individually, which was a lovely touch. On the return leg, the cabin was full, at 28 passengers, and there was no personal introduction.
In flight experience
Outbound, everything went without hitch. Refreshing hot towels were offered to us, followed by a drink from the bar and packet of roasted almonds. My pre-ordered vegetarian meal consisted of a Mozzarella Caprese salad with cheesecake dessert, and arrived looking fresh and tasted delicious. Tea, coffee and shortbread was served after dinner. Real glassware, metal cutlery and china plates added to the premium feel.
On the inbound flight, everything fell apart. The drinks round took too long, leaving the crew short on time and rushing out food as we rapidly approached the UK. My pre-booked meal was not loaded onto the plane, and the crew ran out of all but one menu item after the first 8 passengers were served. Luckily, that one remaining option was the Mozzarella Caprese I'd previously enjoyed, but other passengers were none too happy with the enforced vegetarianism. At the premium price paid for a Club Europe seat, you'd think it wouldn't be too much of a logistical challenge to carry a few food options on board at all times.
Ears popping while descending into London, I wolfed down my food. There was no time for a coffee and shortbread, and the crew were forced by time pressure to hurry a few passengers so that the cabin could be prepared for landing. It was not the relaxing experience I'd enjoyed on my outbound flight!
Disembarking
Once on the ground, an obvious perk of being seated at the front of the plane is disembarking first. First off means first at passport control, which is a real time saver - but sadly there are no further Club Europe perks here, and so if there's a backlog you just have to wait in line along with everybody else.
The cost
The full price of my return ticket was £571. There's no way I would have paid that much for a short hop to Copenhagen, so I dipped into my loyalty points stash and used 18,000 Avios plus £50 for taxes and surcharges. For comparison, the full price economy ticket for the same flight was £324. Neither of these fares are low cost. On the same day, my cheapest alternative option was a £91 return ticket with Norwegian Air.
Is Club Europe worth the upgrade?
If I'd paid full price, my Club Europe fare would have cost £247 more than Euro Traveller and a whopping £480 more than Norwegian Air economy. There is no way I would recommend paying that much more, particularly for a flight that's less than 2 hours long. I could have recreated aspects of the Club Europe experience for a fraction of the price by flying with Norwegian, arranging paid-for lounge access at around £35 each way and buying some of the delicious food available at both Heathrow and Copenhagen airports.
If you're not an Avios collector, then there is your answer. However, as I didn't pay cash, we need to work out whether the additional Avios spend was worth the upgrade. Here comes the science bit.
I chose to pay using 18,000 Avios. I also used my annual BA 2-for-1 voucher earned via my BA American Express Premium Plus card, so those 18,000 points got me two tickets. Taxes and surcharges for the two tickets came in at £50 per person, so £100 in total.
As a rule, your Avios should be valued at 1p or above when redeemed. If I'd have been prepared to pay the full Club Europe fare of £480, my valuation calculation would have been:
Full price tickets: £480 x 2 = £960
Money I did spend: £50 x 2 = £100
Total amount saved using Avios: £860
Avios spent: 18,000 at 4.7p each
That's a super Avios valuation. However, it's not real, because I wouldn't have paid the full price fare. As described above, I would have recreated the Club Europe experience on Norwegian, so let's use those costs to see what my real Avios valuation was:
Norwegian tickets: £91 x 2 = £182
Lounge access: £35 x 4 = £140
Food/drink: £20 x 2 = £40
Money I did spend: £50 x 2 = £100
Total amount saved using Avios: £262
Avios spent: 18,000 at 1.4p each
I was very happy with 1.4p per Avios. If I'd have flown in the Euro Traveller economy cabin, my Avios valuation would have come out even better at 2.9p. But for the experience, and the less tangible benefits (such as fast track security, first on and off the aircraft, etc) I was willing to accept 1.4p and would do so in future.
Related deals
Holiday deals you might be interested in