Why not visit El Gouna this year?
El Gouna is a beautiful tourist resort found on the Red Sea riviera. It's a calm and relaxed, self-contained town with just over 20,000 residents on 10km of beach. Temperatures are warm all year round, therefore ideal as a winter-sun destination. The coolest temperatures are around 20℃ in January and topping out at around 35℃ in August.
The town features islands, lagoons and several beaches spread out along the coastline. Out of all of them, I have to say that Mangroovy Beach was my favourite. Mangroovy Beach is mainly famous for its kiters and although I'm not a very good kiter myself, I was content with sun-bathing and watching the professionals perform their moves out in the water. I also particularly liked the bars, cabins and sun loungers provided along the beach.
One of my highlights at El Gouna was the 18 hole championship golf course open all year round. Golf is one of my serious hobbies, and the course's pitfalls and unpredictable wind currents made my game so much more fun and challenging. The bunkers, lagoons and desert roughs were all very carefully placed; I felt like the course was designed just to test my skill and ability.
El Gouna is a recreational and shopping paradise. Other than learning how to windsurf, sail, play squash and ride a horse, I had the most authentic Egyptian shopping experience. Abu Tig Marina was full of boats and yachts, as well as a number of stylish boutiques but my personal favourite shopping centre was the Downtown area. El Gounaís Downtown is made up of shopping arcades, inner courtyards, boutiques, busy bazaars and art galleries. I love the range of clothes and traditional Egyptian fashion styles they offer. The atmosphere is nice and friendly and you feel like the items are simply waiting for you to buy them.
My holiday to El Gouna was made complete by the huge range of dining outlets I went to. From formal cuisine to casual cafes and bars, I made sure to visit as many restaurants and dine-outs as possible. I enjoyed the most flavoursome pizza at Maison Thomas, and at Le Deauville I fell in love with the Thazard. (a shark-like fish) The Mediterranean seafood soup I tried in Hedra was amazing and so was the seafood from Cjoncamp. I went to many other great restaurants but the ones I mentioned really stood out and made my stay more memorable.
There are 18 hotels in El Gouna for you to choose from. Each one offers spectacular waterfront views and access to full-service beaches. The Mˆvenpick Resort & Spa, Sheraton Miramar Resort and Steigenberger Golf Resort are all up-scaled 5-star hotels which you'll find are very popular amongst tourists. With their unique architecture, advantaged locations and quality services it's not hard to see why. During my vacation, I stayed at the humble 4-star Sultan Bey Resort. It has a private swimming pool and it really captures the essence of Egypt with its iconic winding alleys and brick designs. Moreover the hotel provided excellent service and hospitality, and made me feel like quite the honoured guest.
Use our El Gouna holiday page to find and compare packages from the UK.
---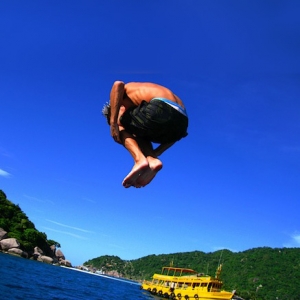 Similar blog posts
From the UK's most popular travel bloggers