Into the wilderness of Norway
What do you know about Norway? Their Viking heritage? Tall people, who look like they are bleached from head to toe? Aurora Borealis and the deep dark cold winters up north? Truth is that Norway is one of the most beautiful countries with postcard-worthy views of mountainous regions as well as fjords and glaciers hundreds of metres high which dot through valleys. The country also holds the title of having the happiest people in the world and when flights from London take just over two hours, it should be considered as the destination for your next holiday.
When you start thinking about spending your holidays in Norway, you generally start with the capital, Oslo in the South of Norway (see, two days in Oslo). Modest homes that have been preserved for decades sit in an amphitheater with the city located at the bottom while suburbs stretch uphill before being cut off by dense forest. Art galleries and museums your thing? You won't have to go far as there are more than you can poke a stick at. The famous Vigeland Sculpture Park in Oslo is also the setting of over 200 unique and bazar statues including one named 'Man attacked by babies'. I can assure you it is quite a relevant title.
Time to get out into the wilderness. Fancy telling your friends that you have been on the highest railway which connects two cities in Europe? The Bergen railway leaves Oslo before shooting through 182 tunnels and gliding over the Hardangervidda, the highest mountainous plateau in Europe. Through winter you chug through an inhospitable landscape which may leave you thinking … why there is even a railway here? Don't let this stir you in the wrong direction though. The trip in Winter is as equally as stunning as it is in summer and it allows you to see powerful and dramatic changes of an awe-inspiring landscape.
The Fjords in Western Norway are grand enough to be put in the same league as Niagara Falls or the Grand Canyon. A ferry through the Geirangerfjord in Møre will take you past cliffs hundreds of metres in height and through abandoned farms which still cling to the edge.
You won't forget your first sighting of the Lofoten Islands, often described as the most scenic part in Norway where abrupt peaks shoot up straight out of the ocean. The islands are mostly connected by bridge and a bicycle ride is perfect for a short day trip. The main islands can all be accessed by car but keep your windows up as you will surely get a giant whiff of Cod as Lofoten houses a large number of fisheries.
Norway gives its Scandinavian neighbours a serious case of mountain jealousy. There is a reason why photographers and outdoor adventurers flock to Norway, no matter where you go there truly is a stunning backdrop at every corner.
---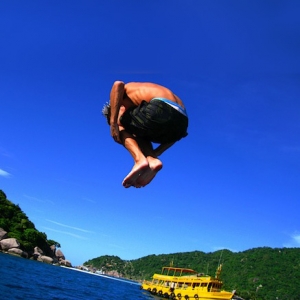 Similar blog posts
From the UK's most popular travel bloggers